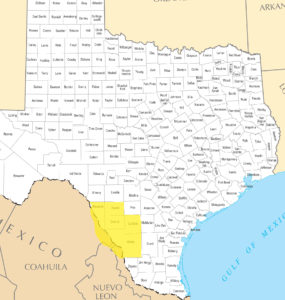 South Texas deer hunts in the "Golden Triangle" are known for record book Trophy Bucks! The irregular triangle of the land composed of five counties that stretch from Eagle Pass to Laredo. The Vaughn Whitetail Ranch is located in one of those counties, Zavala Country. Trophy Bucks inhabit this semi-arid region of shrub brush and mesquite because it's full of high protein growth like granjeno, that can contain as much as 21% crude protein. There is also plenty of prickly pear cactus that provides protein and carbohydrates that keep these big bucks strong during rut.
Because of low rain fall, high numbers of predators, and intense summer heat, only the strongest of Whitetail deer survive, and so the vast amounts of land never become over populated with deer herds. The "Trophy Bucks" of the Golden Triangle are due to the combination of age, nutrition and genetics-all formed by the brutal conditions, high nutrition plant species, and limited deer population.
Ranchers long ago discovered the economic benefits of the trophy deer in the Golden Triangle and began important steps to conservation of the wildlife in the area. There is probably no other are in North America that receives as much research conservation, habitat control, and wildlife management then the "Golden Triangle."
The Trophy Deer taken in South Texas "Golden Triangle" adorn every big game awards, annual Boone & Crockett awards, and Trophy Buck contests in Texas. The deer from this region are legendary and the Vaughn Whitetail Ranch will "show off" some of the areas finest wildlife.