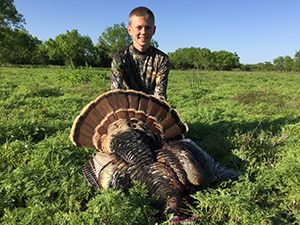 Vaughn Whitetail Ranch is located in the Golden Triangle, an area of Texas that offers the perfect habitat for healthy Rio Grande Wild Turkeys to thrive. The Toms on our property live in a unique confluence of habitats that provide plenty of vegetation for them to grow large, making excellent trophies.
If you're a seasoned hunter, you'll be impressed by the quality of the hunting experience at Vaughn ranch. Our wild turkeys are never kept in pens; they roam freely through our ranch property in the So Texas Golden Triangle. You'll have the help of a guide who knows this land like the back of their hand.

Each Rio Grande wild turkey hunt comes with a seasoned guide, one turkey, one javelina, and time to fish bass in our pond. Meals and accommodations are included. The ranch offers plenty acres of prime, managed hunting land for your personal enjoyment. We have dozens of corn and protein feeders, numerous stocked ponds and plentiful food plots throughout the ranch to help ensure a quality turkey crop for this season. Our Ranch House and Hunter's Lodge offers first class comfort and convenience to each hunter. You'll find our hunting blinds, equipment, and buildings to be meticulously maintained to ensure a quality hunting experience. There is excellent cellular phone service, satellite TV, and a wood burning fireplace in the Hunter's Lodge.

Call or sign up today to schedule your turkey hunting trip at the Vaughn Whitetail Ranch.